Cabin Forum
Small Cabin Siding Options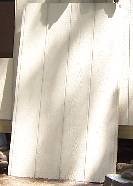 Plywood or OSB Sheets
You can use regular plywood or OSB sheets for
small cabin siding
. 3/8" or 1/2" thickness is a typical choice. This is a reasonably inexpensive option. When you use plywood or OSB panels outdoors, you need to paint them. Because they are not primed, oil paint is the best option. It is more durable than acrylic/latex and soaks well into the panel.
SmartSide Sheets
A better, but more expensive option is
SmartSide panels
. They have numerous advantages:
Durability
Extra shear strength (you can nail it directly to the studs)
Treated for moisture, rot and fungal decay resistance
Termite damage protection
Shiplap edges
Surface pre-primed with resin-saturated primer (good paint adhesion)
No need for additional wall covering (plastic or aluminum siding)
Embossed cedar pattern with tapered grooves for traditional planking look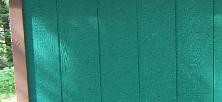 Because SmartSide panels are pre-primed, use an exterior 100% acrylic latex paint or a latex blend for painting. The SmartSide panels are more expensive than plywood or OSB sheets. I've seen prices ranging from $29 to $80 per panel (3/8" thickness 4x8 ft).
I used SmartSide panels for the siding of my small cabin and plywood for siding of other structures.
---
---