Cabin Forum
Small Cabin Water Supply
What I mean by
small cabin water supply
is
off-grid
water sources.
From the small cabin living point of view, water can be:
Non-drinking - for showers, washing, plant watering, construction (i.e., concrete mixing), etc.
Drinking - for drinking and cooking
Non-Drinking Water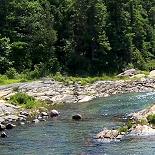 Many people, including me, dream of owning a beautiful waterfront property; however, it's becoming an unaffordable luxury these days. Having a small spring, creek, lake, or pond on your small cabin property can be a reasonable alternative, at least from the water supply point of view.
If you don't have that, collecting rain water can be an alternative water source. Although I have a river at the edge of my cabin property, I'm also planning to construct a simple, but effective, rain water collection and distribution system.
Highlights of my small cabin water supply system: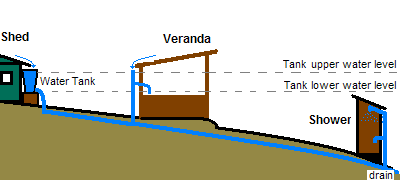 My cabin property has some slope, that providing me an elevation point for the water barrel location.
Rain water is collected from the roof of several structures - cabin, shed, and veranda
Water passes through a simple filter that filters out leaves, small debris, etc.
Water is collected in a ~200L (45G) food grade plastic barrel. (I picked up a used one for $20 at a roadside sale. The barrel does not look pretty, I'm going to paint/camouflage it so it blends in nicely with the wilderness surrounding).
Water is distributed underground using inexpensive sprinkler-type tubing.
Water can be drained out of the system for the winter.
This water distribution system supplies rain water for my summer kitchen / veranda (sink for washing hands, etc.), shower, and a couple of water hose outlets. If you have a water source on your property (lake, river, spring), an alternative would be to collect water in a barrel using a (12V) water pump.
Water Heating
If you want to have a warm shower, few water heating options are available for your cabin:
Solar water heater - in one of its simplest forms, basically a black water container exposed to direct sun. The heating time varies, depending upon the size of the container, the outside temperature, sun exposure and angle, but on a sunny day at a temperature of 21°C / 70°F, the water temperature will warm up to around 40°C / 105°F in around 3 hours.

Propane Water Heater - in-line/on-demand type of water heater that hooks up to a small propane tank.
Although the pictured model uses a battery-based pump to feed the water, I'd experiment with just placing the water container high above the heater and allowing gravity to feed the water.

Electrical Water Heater - Many models are available, but since I'm not hooked up to the grid and use a moderate solar power source for my electricity needs, an electrical water heater is not really an option for my small cabin.

See
Hot Water Discussion on the Small Cabin Forum
for more information and links.
Drinking Water

When you have a sufficient amount of non-drinking water, the actual amount of drinking water you require is relatively small. I may consider some sort of water purification system in the future, but for now I bring my drinking water with me.
After all these years, I have an idea of how much drinking water I will need for a particular trip to my cabin. For a weekend with 2-3 people, I usually bring a 10-20 L (2-4 Gallon) canister of drinking water - either from home, or purchased in a local grocery store. If you are considering a
water purification system
, there are quite a few available. Whether or not you need a water purification system for your small cabin depends on your usage requirements. I don't need one at this point. Perhaps someone can share his or her first-hand experience of purifying rain or river/lake water inexpensively. Please feel free to share your thoughts on the
Small Cabin Forum (off-grid section)
.
---
---