Cabin Forum
Small Cabin Interior Finishing and Design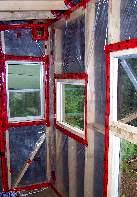 Small Cabin Insulation
Before doing any interior finishing work, you need to decide whether you want to insulate your small cabin. I.e., do you plan to use it during colder months?
Think carefully - installing insulation after all interior work is done can be quite messy and time-consuming.
If you are looking for suggestions and other people's opinions, look at this insulation discussion thread on our Small Cabin forum.
I decided not to insulate my cabin, mainly because of the high cost of the standard insulation. I just couldn't justify it based on my occasional use of the small cabin. I also took into consideration that both my exterior and interior panels have two layers of moisture-repellent material and thus should provide some degree of heat insulation. If the cost of standard insulation is also a drawback for you, consider using some sort of alternative cheap or free insulation material. Possible alternatives could be to reuse Styrofoam blocks from packaging, bubble wrap or layers of cardboard.
Small Cabin Interior Walls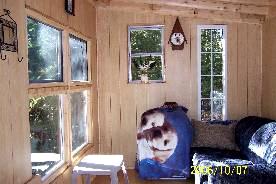 I'd recommend stapling a moisture-repellent (polyethylene) film to the interior side of the wall studs before nailing decorative panels to them. This will add moisture protection to your small cabin, helping to preserv the cabin structure and its contents (furniture, clothes, etc.)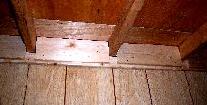 I used 4x8 ft decorative sheets/panels for indoor finishing. Just measure, cut and nail to the wall studs. Because I selected finished decorative panels, there was no need to paint the interior of my small cabin. The wood look and feel suits me well.
Small Cabin Floor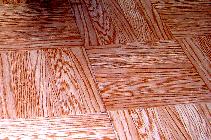 You should cover bare,
pressure treated
floor plywood.
If not covered, it will wear pretty quickly. Also, covering PT plywood will help reduce any possible emission of the plywood's chemical elements and odors into the cabin. A simple roll of linoleum or self-adhesive decorative linoleum tiles work nicely.
Shelving and storage
As you see fit.
---
---