Cabin Forum
Enjoying Outdoor Living At Your Small Cabin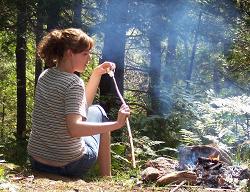 We always look forward to spending some time outdoors at our small getaway cabin.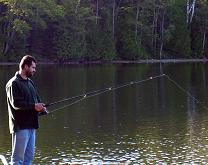 It is a nice place to go for a weekend or vacation to enjoy nature.
It's also a good place to pursue various hobbies, like photography, fishing, bird watching, reading books, or playing your favorite games.
Activities Around Your Small Cabin
So what can you do there?
Sit around a fire, experiencing nature, while enjoying your favorite beverage
Go hiking and exploring in the surrounding area
Fo fishing and hunting (don't forget your license and gear)
Go canoeing
Explore local towns, villages, parks, and green conservation areas
Work on other construction projects around your small cabin
Spend time gardening (keeps wife busy ;-) )
Rainy Days:
Read books
Watch TV (if your area has coverage)
Listen to the radio (consider buying an all-wave radio)
Play card games
Think about life, plan for the future
Check our forum and read
what others are doing at their cabin
.
Things to Have on Hand
Set of dishware
Flashlight (a must)
Extra batteries
12V fan (frugal substitute for an air conditioner)
I usually carry a small pouch with a pocket knife, flashlight, and pepper spray on my belt - just in case
First aid kit
Stuff to Know
Where the nearest hospital is
Where the nearest hardware or building supply store is, as well as hours of operation.
Cell phone area access
Small Cabin Cooking
I use an old propane BBQ with side burner for cooking. (Do not run the BBQ inside the cabin!)
During winter months, I cook on the woodstove while heating the cabin.
Tip:
Hide food from bears, raccoons, and squirrels, etc.
Care of Environment
Try to be as environmentally-friendly as possible.
For example, use biodegradable soap products.
Our Photo Gallery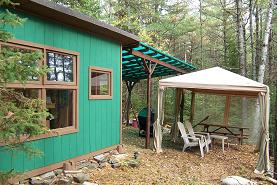 We have taken many beautiful pictures during our stay here.
To view them, visit our
Small Cabin Photo Gallery
Please share your outdoor living experiences!
Your suggestions and comments are welcome.
Post a message in our discussion forum
or
send us a note
.
---
---