Cabin Forum
Small Cabin Electrical Wiring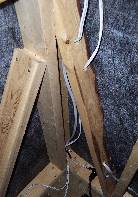 If you decide to run electrical wireing for power outlets or light fixtures through your small cabin, the time to so is before any interior panels are installed. You don't need many power outlets and light fixtures in a small cabin. In my small cabin, I have 2 lights and 2 power outlets, as well as wiring for light switches and an outdoor light. It pays to think things through before you start construction, since it is difficult to change wiring once internal finishing is complete.
Tip:
You can use typical 14-gauge electrical house wiring and switches. They are readily available and are usually sufficient for running small 12V appliances and lights.
In case you later decide to upgrade to standard 100V (220V) grid power, you will not need to rewire the cabin. Just replace power receptacles and light fixtures with those of the proper type.
---
---