Cabin Forum
Small Cabin Site Preparation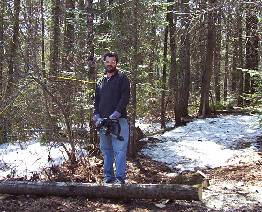 Clearing the Site
If your small cabin construction site needs to be cleared first (i.e. cut trees), decide whether to clear the site on your own or to hire a contractor.
Contractors' charges vary, depending upon size of the area to be cleared, terrain characteristics, the amount of trees to cut, etc. In my case, estimates varied from $800 to $2500. Because of this, I decided to clear the driveway and cabin site on my own. It was a fairly large chunk of work. If you decide to clear your property on your own, you need to budget adequate time and make sure you are reasonably fit (physically) for the job.
Tip:
Decide which surrounding tree to cut prior to cabin construction. Cutting trees after the cabin and other structures are built may be problematic if there is no clear and safe path for the trees to fall.
Also, check to see if there are any dead trees around that pose a danger.
It's important to think and plan ahead, Look at the trees surrounding your small cabin building site and see which ones need to be cut!
Leveling Terrain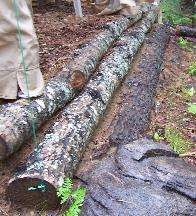 Decide whether you require some terrain leveling. It is easier to do at the same time the contractor (if you use one) clears the site. In my case, I've made a small level terrace in one area on which to place a picknick table near a nice scenic view of the river. To do this, I stacked a few large logs and filled space with soil.
I got the soil by digging a hole nearby (later I may turn it into a cold storage of some sort). Depending on the amount of soil that needs to be moved, doing terrain leveling at your cabin site on your own can be a heavy undertaking.
---
---