Cabin Forum
Small Cabin Heating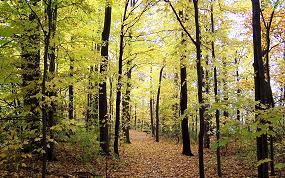 I love going to my small wilderness cabin in the fall - sometimes quite late in the fall. The forest colors are outstanding! The smell of fallen leaves and a camp fire... My idea of a good time. Also, no summer heat and humidity. And the best part - no bugs! So the question is, how do I keep my small cabin warm during a cold night?
Wood Stove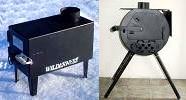 For me, the best heating option for the small wilderness cabin is a wood stove - especially when there is a lot of free firewood on your property.
Besides, I like the smell of firewood in the fall. (Also, since I do not have electricity service at my small cabin property, I can't use electrical heaters).
Small Cabin Wood Stove Setup
My first consideration was that the space inside my small cabin is limited, and even a small, single-wall wood stove requires certain minimum clearances.
After doing a lot of reading and some calculations, I was able to reduce wood stove clearances by doing the following:
Placing a layer of brick around the wood stove to absorb and retain heat
Applying a corrugated steel sheet around the layer of brick
Ensuring that I had approximately 8" of space clearance
Addin a dual layer heat shield made of corrugated steel - and keeping 1" spacing between sheets and the wall and 1" off the floor for air circulation
Using a metal sheet and ceramic tile for floor protection.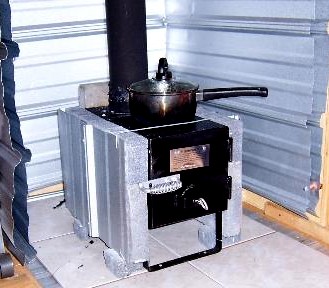 Perhaps the wood stove setup in my cabin is not to the last letter of the building code, but I know it is safe. During my test burn, the cabin wall surface behind the dual layer of heat shield was not even warm to the touch.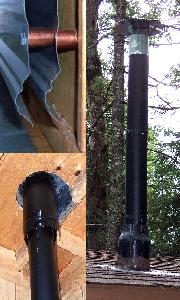 For the chimney, I used a larger diameter stove pipe as a heat shield, and cut a hole in the ceiling with additional clearances, then sealed connections with high-temperature wood stove cement.
In addition, I installed a rain cap with a metal spark arrestor (also prevents animals from getting in through the chimney).
For peace of mind, I have installed a carbon monoxide detector in the cabin.
Wood Stove Safety
The important thing about using a wood stove inside your small cabin is fire safety (and safety regulations).
When you purchase a new stove, it comes with safety and installation instructions. Perhaps the most important of them is the stove's proximity to (flammable) cabin walls. The actual space requirements depend on the wood stove design and vary from model to model.
Some quick tips:

Always place your stove on a non-flammable surface like ceramic tile or asheet of metal
You can use a metal heat shield to reduce space between the stove and flammable walls. Mount the metal sheet 1" from the wall and 1" off the floor. This will save valuable cabin space.
Although I've seen people using wood stoves inside fabric tents and other small places, I personally wouldn't recommend this. Before making any heating decision with regard to your small cabin, you should familiarize yourself with some
basic guidelines on wood stove safety and clearances to combustible surfaces
. Check out
wood stove discussions, as well as Controlling heat from a cabin woodstove on the Small Cabin Forum
.
Other Cabin Heating Options
If you have electricity service at your cabin site, an electrical heater is the easiest and most convenient heating option to keep you warm at night.


I do not recommend using an indoor propane heater in your small cabin. I used one once, and I didn't like it for the following reasons:


It emits a smell which is unpleasant and makes your nose dry.
It burns oxygen inside your cabin and releases carbon dioxide - you have to keep a cabin window open, which makes it an ineffective heating source.
Retail models are not large enough to heat even my small cabin (they are typically meant for emergency car heating).
Small Cabin Heating Safety (again)
Watch your heating equipment. A cabin fire in the forest is no joke. Use common sense, and be on guard.
---
---