Cabin Forum
Small Cabin Wood Stove Safety
This page provides a rough guideline for
small cabin wood stove safety clearances
.
Clearances to Combustible Surfaces
Floor Protection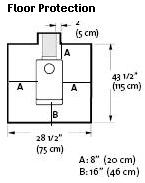 A bottom heat shield is required in all installations.
In addition, your stove must be placed on a non-combustible surface that extends 8" beyond the sides and back of the stove and 16" in front of the stove. This is the minimum-recommended floor protector size.
Floor protection must also be used under the stove pipe and must extend 2" beyond either side of the pipe. Warning! Never put any type of floor protection on top of carpeting.
Alternate Floor Protection
All floor protection materials must be non-combustible (i.e., metals, brick, stone, mineral fiber boards, etc.). Organic materials (i.e., plastic, wood, paper products, etc.) are combustible and must not be used.
The floor protector specified may include some form of thermal designation such as R-value (thermal resistance), K-factor (thermal conductivity), or C-factor (thermal conductance).
Clearance to Adjacent Combustible Materials
A combustible is anything that can burn, and in the case of stove installations, these combustibles may not be visible.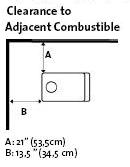 If you are not sure of the combustible nature of any material in the vicinity of your planned stove installation, you should check with your local fire official. Remember that "fire-resistant" materials
are
considered combustible - they are difficult to ignite, but they will burn.
Heat is conducted readily through brick and could ignite unseen combustibles behind it.
Using a Rear Heat Shield to Reduce Clearance in Wood Stove Installations
An optional rear heat shield may be used only in top-exiting parallel installations to reduce clearance.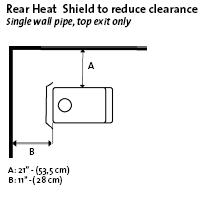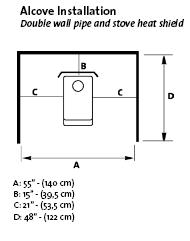 Using Wall Protectors to Reduce Clearances
The wall protector must be non-combustible, such as a minimum 4 gauge galvanized steel or its equivalent.
It must be elevated 1" from the floor to provide an air space of at least 1" between the shield and the combustible wall.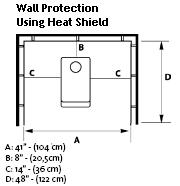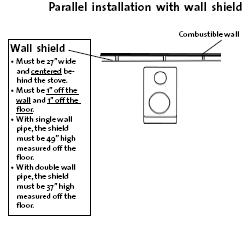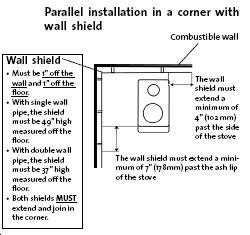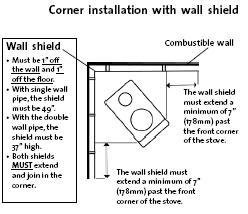 ---
---